B.FIRM is proud to announce that it has joined forces with Heart Foundation ACT for the 12-week Canberra Celebrity Heart Challenge.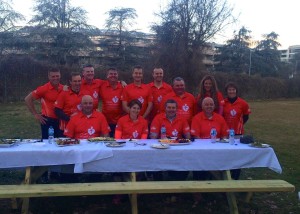 Focussing on delivering real and measurable improvements to the health and wellbeing of the 11 celebrity participants, the program which kicked-off today, involves undertaking changes and improvements to nutrition and diet and training several times a week with B.FIRM CEO, Lee Campbell.
"I'm really excited to be working with the Heart Foundation ACT and all the participants on the Canberra Celebrity Heart Challenge. We are keen to demonstrate to the community the changes to health and wellbeing that can be achieved in just 12-weeks by including regular physical activity and exercise and making changes to the way we approach nutrition and diet.
It will be a great 12-weeks and I'm looking forward to sharing the journey with the participants and with the Canberra community. If we can inspire just a few people to start their journey then that's a great outcome. The participants are also raising money for the Heart Foundation so don't forget to donate to your favourite celebrity and support the great work and research the the Heart Foundation does," said Lee Campbell.
The 11 Canberra Celebrity Heart Challengers come from a variety of age groups and professions:
Maria Efkarpidis, Rock Development Group
Melissa Gelonese, Entourage Productions
Tim Benson, B2B and Capital Magazine
Andrew Barr MLA, Deputy Chief Minister
Amanda Whitley, HerCanberra
Kevin Phelan, The Good Guys (Fyshwick)
David Pembroke, Content Group
Dan Stewart, Land Development Agency
Eoghan O'Byrne, Canberra FM
Professor Nicholas Klomp, Deputy Vice-Chancellor (Education) University of Canberra
Theo Dimarhos, Savills Australia
You can find out more about the Canberra Celebrity Heart Challenge via the Heart Foundation media release below, heading to our Canberra Celebrity Heart Challenge page or by visiting canberrahearts.org.au.
We look forward to keeping you up to date on the progress of the challengers over the coming 12-weeks.
Local celebrities accept challenge to become Canberra's Healthiest Hearts!
A group of high profile Canberra politicians, successful business owners and active networkers have accepted Heart Foundation ACT's challenge to reduce their risk of heart disease.
The challenge kicked off today with the group preparing a healthy morning tea of energy balls and banana and strawberry smoothies. The celebrity challengers will raise funds for the life-saving work of Heart Foundation ACT throughout the 12 week challenge and the person who raises the most will be crowned Canberra's Biggest Heart!
"My main goal for the Canberra Celebrity Heart Challenge is to show that no matter how busy our lives are, there's always time to move your body and eat healthily….and that it doesn't have to be 'hard work'," says, Amanda Whitley, Founder of HerCanberra.
Heart Foundation ACT CEO says, with 62% of locals being overweight or obese and 50% being insufficiently active for health the Challenge provides participants with the right building blocks to turn their heart health around.
"These aren't great statistics which is why it's wonderful to see our Challenge participants prioritising their hearts by taking the time to be healthier and more active," Mr Tony Stubbs said.
The celebrity challengers will have access to nutrition advice from the University of Canberra Nutrition and Dietetics Clinic students and their supervisor, an Accredited Practising Dietician with weekly personal training sessions being provided by celebrity trainer Lee Campbell from B.Firm.
To support your favourite celebrity's fundraising efforts for Heart Foundation ACT visit www.canberrahearts.org.au
Facts
Heart disease accounts for four deaths a week in the ACT.
More than one in three people in the ACT are overweight.
Close to a quarter of the ACT population aged 15 and over do very little or no exercise at all. This is well below the national average of 36%.